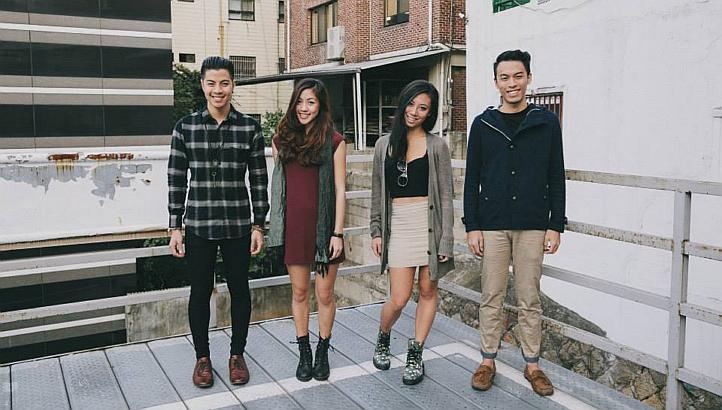 About the Band
The Sam Willows, consisting of Jon, Sandra, and siblings Benjamin and Narelle, burst onto the Singapore music scene in May 2012.
With their luscious harmonies and special brand of soul-folk, the quartet created a solid buzz across the island-state. In the short time since then, they've amassed more than 100,000 views on their YouTube page, which is kept stocked with unique covers and ear-tingling originals.
The quartet's self-titled freshman EP was co-produced by esteemed local arranger Bang Wenfu and recorded and mixed at Soundfarm Studios.
It was released to rave reviews on 27 October 2012 at their sold-out album launch party, held at the popular local bar and concert venue, TAB Singapore. The Sam Willows are supported by Warner Music Singapore, Logitech UE and Gibson Singapore. They were also Gibson's Artist of the Month, October 2012, and local radio station 987FM's Rising Star (January).
Recent appearances include performing on Singapore's largest media network's New Year's Eve countdown event, "Celebrate 2013" at The Float at Marina Bay, Singapore.
The band embarks on their North American Tour in March 2013, playing at two major festivals - South by Southwest (SXSW) Festival 2013 in Austin, Texas, as well as the Canadian Music Festival in Toronto, Ontario.
Find out more about the Sam Willows
Musicians
Benjamin Kheng
@benjaminkheng
Narelle Kheng
@narellekheng
Jonathan Chua
@jonchua_tsw
Sandra Riley Tang
@sandrarileytang
Music
We've released a total of two albums on iTunes: our self-titled EP as well as our Glasshouse (Lillywhite Edition) Single.
Videos
Double-click on video for full-screen
Double-click on video for full-screen
Double-click on video for full-screen
There's more where those came from